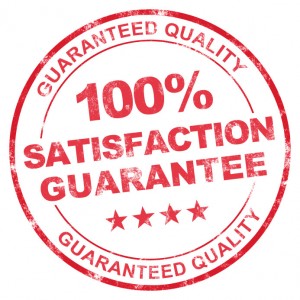 Call us old school if you will, but we truly believe if we do everything in our power to take care of our customers, everything else, including our success will take care of itself. With that in mind, we promise to always go the extra mile to provide the best possible products, service and advice.
At Scarfade we proudly stand behind each and every product we offer. That said, we realize that due to factors beyond our control there will be times when our products fall short of being a perfect fit. For those rare situations we offer our 100% unconditional satisfaction guarantee. Unlike some money back guarantees, ours is quite simple. If you are unsatisfied for any reason with any part of your experience with us, whether it be product or service related, let us know and we will refund your money. You can call us toll free at (800) 771-2215 or email us at info@scarfade.com. Feel free to also reach out to us via our Contact Us page.
While we love and encourage positive feedback, we also need to know when something isn't quite right. We use this information to help shape future policies, processes and employee training. Thank you for your trust and support!