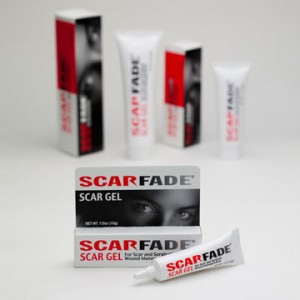 Everyone has scars. Some are more pronounced than others. While it is often said that scars are a reflection of the challenges we have faced and overcome, most people prefer to keep them covered or make them fade away. At Scarfade, making them less pronounced until they fade away is part of what we do. As we have just reached 5,000 fans on Facebook, we thought this would be a good time to reflect on what it is that has made our product and our company so successful in helping people. Below is an interview with Erik Hanson, vice president of operations at Scarfade, in honor of our milestone.
Q:  What has been the key to success at Scarfade?
A:  It's simple. While it sounds cliché, we make it a point to treat our customers the way we would want to be treated if we were in their shoes. That means no big sales pitch, just good information and solid advice. On top of that, we make sure our customers know that if at any point they are unhappy with our product for any reason or feel we have misled them in any way, we will refund their money – no questions asked. We enacted this policy several years ago, and we rarely have anybody ask for a refund.
Q:  What makes your scar reducing product different than others on the market?
A:  We don't claim to know everything about every other product on the market. Instead of talking about what is wrong with other products, our focus has always been to highlight what is good about ours. Specifically, our Scarfade formula was among the first scar treatment gels on the market. It is made from the only ingredient consistently shown by reputable published clinical studies to effectively improve the appearance of scars. We could make our formula more fancy and add a bunch of filler ingredients to make it smoother or less tacky or even less expensive, but the end result would be a product that is less effective. There are a lot of scar treatment products on the market today that make big claims.
Q: Does Scarfade work for everyone?
A: After 15-plus years in this industry, we have learned that everybody responds differently to treatment and that results will vary depending on factors such as skin type, the age of the scar and the location of the scar, to name a few. The one constant is that products with silicone as their primary ingredient are more effective than those without. We offer two main types of products which are both scientifically proven to work, silicone sheeting and silicone scar gel. The best results are achieved when the thin layer of silicone is in direct contact with the scar. Which works best is usually a matter of scar location and personal preference. The gel seems to be preferred by more of our customers due to its ease of use.
We appreciate our Facebook fans, and celebrate our milestone of 5,000 fans. Follow us on Facebook to keep up with the latest blogs, news, tips and information on scar treatment and skin care from Scarfade.