Every scar has its story. It's part of what makes them so memorable. Tell us the story of how you got your scar. When you join our contest on facebook.com, you could win a free tube of Scarfade scar treatment gel. We'll choose three winners at random from all of the scar story entries we receive by Thursday, July 31, 2014 at noon, Eastern Time.
To enter, visit us on Facebook, like our page and fill out our entry form. You'll find it under the "Share Your Scar Story" tab. You must be 18 or older and abide by the contest rules to be eligible.
If you want to share a photo of your scar to go with your story, you're welcome to post on our wall or send us a private message containing your image and your entry name. Scar images are not required for entry.
Kyernan shared her scar story and a photo with us:
"I leaned on the back of a video game chair that I thought had arms. I leaned forward, hands on the arms (that weren't there) and face met wooden chair frame. Six stiches later… Sweet scar on my forehead."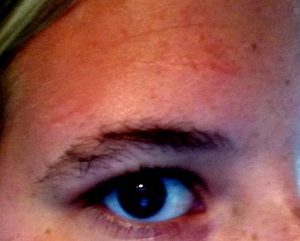 Dan shared his scar story with us:
"My senior year in college, we made the baseball conference tournament near Columbus, Ohio. We ended up winning the game, but about the 4th inning I was trying to break up a double play at second base, and the shortstop, whom I knew from high school, actually jumped over me (me 6'4", him 5'9") and landed on my left hand that was trailing behind me in my slide… His metal cleats shredded my batting gloves and left me with a bloody glove and throwing hand. I ended up homering in my last at bat with no batting gloves and a gauzed up hand. To this day, there are still small spots on my hand that I have no feeling."
Evan shared his scar story with us – and a picture of it, too:
"When I was a teenager, my dad had a sweet Corvette with smoking side pipes. Corvettes sit low to the ground, so when I went to get out, my leg met the side pipe and they had a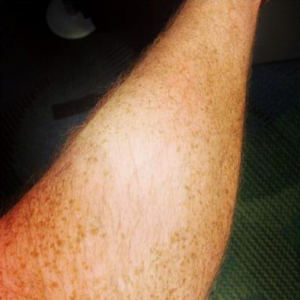 short discussion about physics… The side pipe won the argument and my leg lost several layers of skin, all of which contained my plethora of freckles. True story."
Ready to share your story with us? For a complete list of Share Your Scar Story contest rules, visit http://www.scarfade.com/scar-story-contest-rules.html.